08-2017 De Gelderlander NIJMEGEN, Geert Willems
De Nijmeegse kunstenaar Margriet Smulders is hot in Duitsland. Voor een nieuw winkelcentrum in Rheine, pal over de grens bij Oldenzaal, sieren gigantische bloemstillevens van haar drie plafonds. De ene expositie volgt de ander, op dit moment in Museum Katherinenhof in Kranenburg en in Kloster Bentlage in Rheine.
Grootste werk ooit  
De bezoekers van het nieuwe winkelcentrum Emsgalerie in het Duitse Rheine kijken vaak naar boven. Drie plafonds worden gevormd door een enorm drieluik van kunstenaar Margriet Smulders: 'Quelle', 'Strömung' en 'Mündung', een ode aan de nabije rivier de Ems. De werken meten 11 bij 24 meter, 9 bij 18 en 6 bij 18. ,,Mijn grootste werk ooit'', zegt Smulders. ,,Toen ik deze opdracht kreeg, was dat wel een 'yes!'-moment! Een droomopdracht. De eerste keer dat ik in er ging kijken, maakte ik een praatje met twee dames. Ik vroeg of ze blij waren met het nieuwe centrum. Nee dus, hun ouderlijk huis was er voor gesloopt en ze konden de Ems niet meer zien. Ik besloot de rivier weer zichtbaar te maken, van oorsprong tot monding. Ik noemde het 'Ins Blaue hinein träumen'.'' Ze kreeg de Duitse opdracht via een omweg. ,,Voor het plafond van de Markthal in Rotterdam had ik ontwerpen gemaakt, maar de keuze viel op Arno Coenen en Iris Roskam uit Rotterdam. Die opdracht werd gecoördineerd door Mothership, een organisatie die kunstenaars en bedrijven samenbrengt. Die was ook gevraagd voor dit winkelcentrum. Ze kenden me nog.''
Met gieter en levende slangen
Aan de plafonds van de Emsgalerie heeft Smulders een nieuwe paradijselijke wereld geschapen, een eigen Hof van Eden met vrolijke bloemen en helblauw water. Die schepping deed ze in haar Nijmeegse atelier. Daar staat binnen een open bak van een paar vierkante meter, een soort ondiep aquarium, waar ze al haar bloemencomposities laat ontstaan. ,,Veel van mijn bloemen haal ik uit de tuin van een vriendin, klaprozen bijvoorbeeld. Die kun je nergens anders krijgen. Die moet je 's ochtends plukken en 's middags fotograferen, anders zijn ze alweer verwelkt. In januari en februari haal ik tulpen bij een broeiproefbedrijf die altijd meedoet aan de mooiste-tulpwedstrijd.''
Er is meer dan bloem, zoals glazen vaasjes, zelf geblazen, en water, niet stilstaand maar stromend. ,,We werken altijd met z'n drieën: er moet iemand water in de bak gieten om het te laten bewegen.'' Om een beeld van een mythisch paradijs te scheppen, ging ze op zoek naar  slangen. ,,Ik deed een oproep op Facebook en na 18 uur stond er een leuke man met twee levende slangen in mijn atelier.''
Voor de plafonds heeft ze tienduizenden opnames gemaakt en daaruit een compositie gecreëerd. ,,Die moesten verwerkt worden bij een bedrijf in Amsterdam, met een heel grote computer. Het waren enorme bestanden. Het plafond bestaat uit panelen van 2 bij 1 meter, gemaakt met een sublimatie-techniek, een soort emailleren/poedercoaten. Ze zijn gebakken op 200 graden.''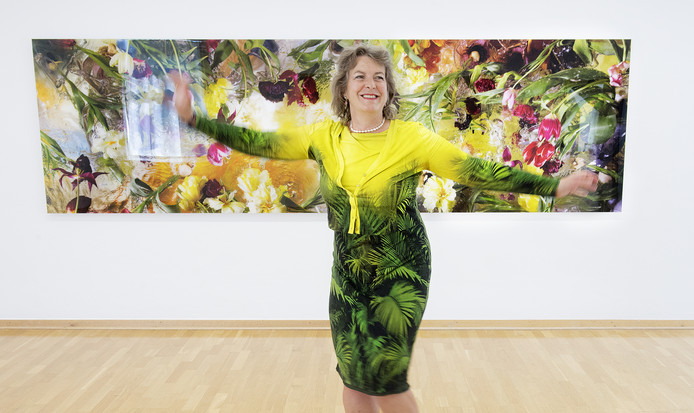 Brecht, Shakespeare en Rolling Stones
De plafonds hangen inmiddels een jaar en ook de Duitse musea en galerieën hebben Smulders ontdekt. In Kranenburg bij Nijmegen en Kloster Bentlage, op 2 kilometer van de Emsgalerie, zijn nu solo-exposities met kleurrijke bloemenwerken van haar te zien.
De expositie in Kranenburg draagt de wonderlijke titel 'He, du! Halt an! Was ist das mit diesem Wasser Alter?', hetzelfde als een nieuw monumentaal werk dat centraal in het museum hangt. ,,Ik laat me bij de titels inspireren door strofes uit de literatuur. Dit is een citaat van Brecht. Dat heb ik gevonden door te googelen op 'water' en 'Brecht'. Het komt uit het boek 'Tao te King'. Ik bedenk de titel altijd achteraf.''
Verder zijn er werken als 'Frail the White Rose' (James Joyce), 'She combs her hair' (uit 'She's a rainbow van the Roling Stones') en 'When the battles lost and won'. Smulders: ,,Die zin is uit 'MacBeth' van Shakespeare. Die heb ik gemaakt na veel gedoe over de vergoeding voor de plafonds. Het is een heel donker werk, omdat ik even iets anders wilde dan dat lieve lichtblauw.''
07-17 Münsterländische Volkszeitung, Ingmar Winter
Im Farbe umgesetzte Poesie
In July 2017 the German newspaper 'Münsterländische Volkszeitung' publiced an article about my ceiling in the Emsgalerie.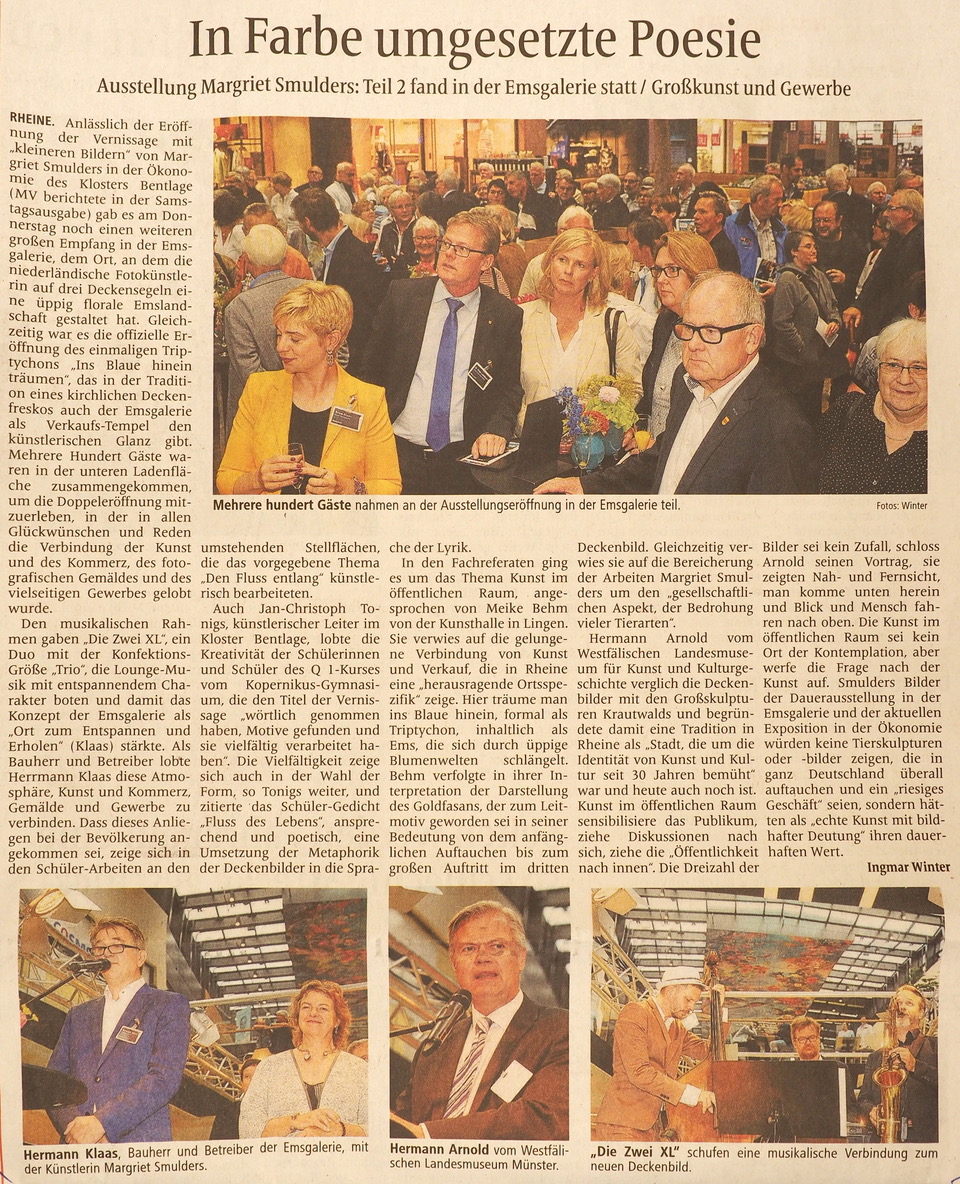 07-2017 De Gelderlander, Geert Willems
Margriet Smulders: 'Ik heb mijn vader en mijn zusje niet kunnen helpen'
DE NIEUWE MARIKENS. De Nijmeegse fotograaf Sara Donkers en Gelderlander-redacteur Geert Willems gaan op zoek naar sterke vrouwen in stad en streek. Vandaag kunstenaar Margriet Smulders (1955).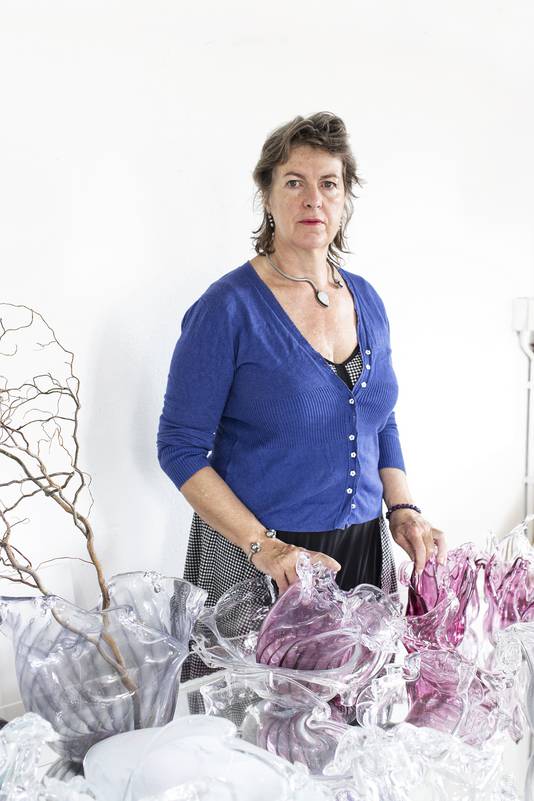 "Ik ben psychologie gaan studeren, omdat het zo'n 'puinhoop' bij ons thuis was. Mijn vader en zusje waren allebei psychotisch en ik wilde ze graag helpen. Bij mijn vader kwam het door zijn oorlogsverleden. Hij had in Kamp Amersfoort gezeten. Hoe het precies zat, heeft hij nooit echt verteld. Toen ik was afgestudeerd, sprong mijn zusje voor de trein. Met mijn vader is het uiteindelijk wel redelijk goed gekomen met medicijnen.
Ik heb ze niet kunnen helpen, zoals ik wel had gehoopt. Dan word ik maar kunstenaar, dacht ik toen. Tijdens mijn studie had ik in de avonduren al de kunstacademie gedaan. Daar ontmoette ik mijn man, Frank Bezemer. Al snel bleek dat er geen droog brood in de kunst was te verdienen, dus ging ik als invaller werken op de Kopse Hof, een sociaal-culturele opleiding. Op de eerste werkdag bleek ik zwanger. Dat was natuurlijk niet handig. Uiteindelijk ben ik toch kunstenaar geworden, omdat ik inmiddels wist dat ik meer geduld moest hebben en heel veel moest netwerken."
Mijn grote doel is een mooiere wereld scheppen. Daarom gebruik ik altijd veel bloemen
"Ik maakte naam met familieportretten, foto's met mezelf, mijn man en twee kinderen. Die verkochten vrijwel niet. Ik stuurde in die tijd wel zo'n 100 brieven de deur uit. Dat leverde tien belangrijke reacties op. Zo kwam ik via via in musea van Wenen, Parijs en Graz terecht. Het toppunt toen was de show Who's looking at the family? in de Barbican Art Centre in Londen. De grote doorbraak kwam met een opdracht voor de Katholieke Universiteit, die 75 jaar bestond. Ik maakte 75 bijzondere portretten van werknemers.

Mijn grote doel is een mooiere wereld scheppen. Daarom gebruik ik altijd veel bloemen. Ik ben heel trots op drie grote plafondwerken die vorig jaar in een Duits winkelcentrum, de Emsgalerie, zijn opgehangen. Daar is gisteren ook een expositie van me geopend. In Duitsland heb ik inmiddels een naam opgebouwd, al is mijn Duits niet zo best. Ik had er altijd een onvoldoende voor."
05-2017 Rheinische Post, Matthias Grass
Barocke Blumenpracht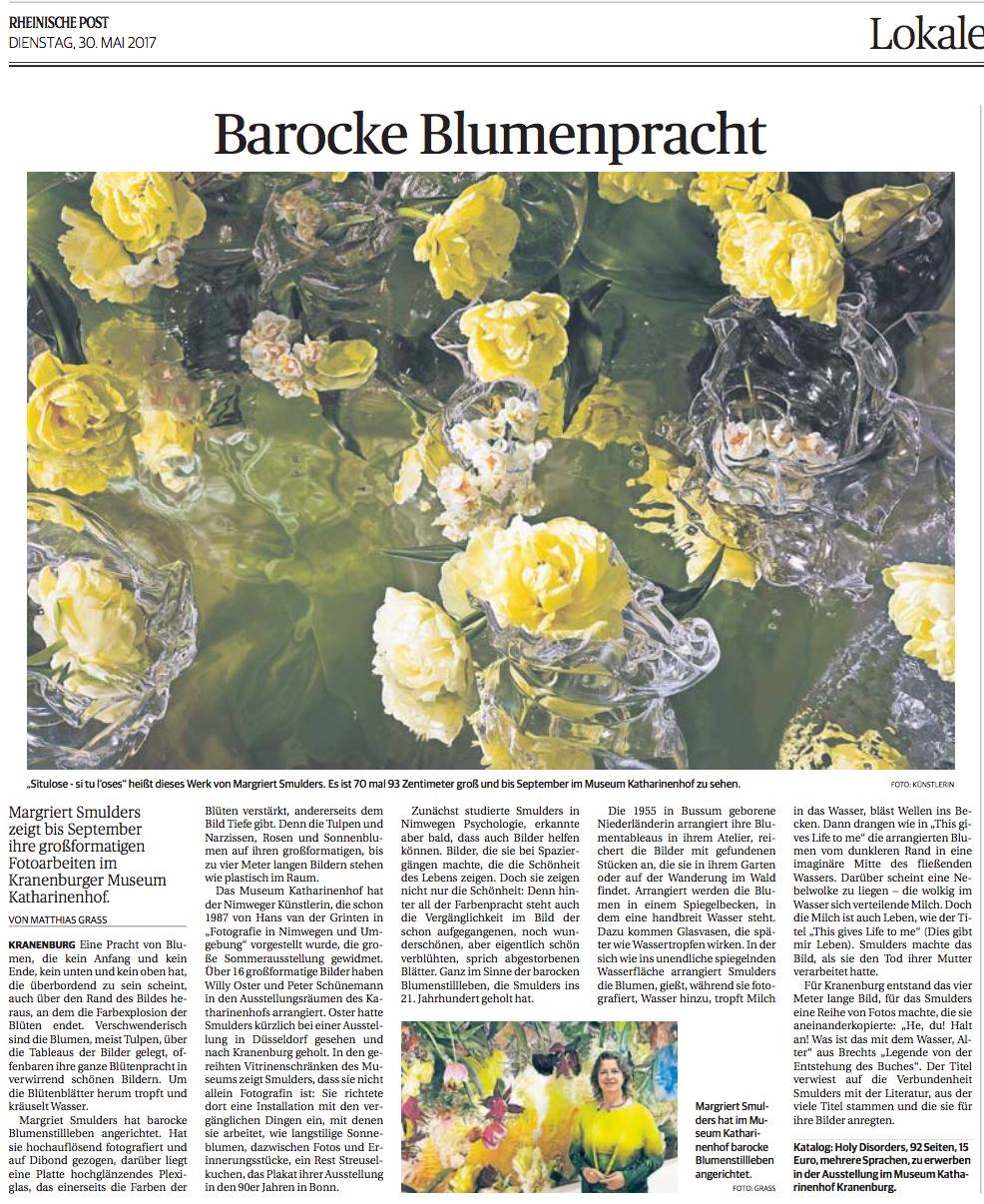 06-2017 Reiner Service 
Den Fluss entlang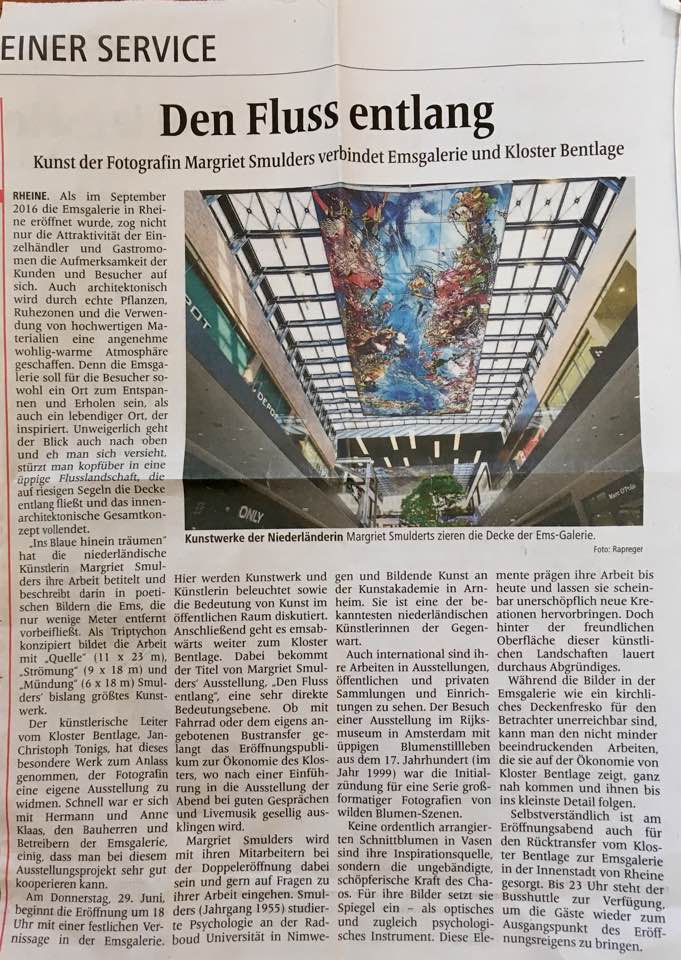 09-2017 Rheine, Paul Nienhaus
Von Blumen betrunken werden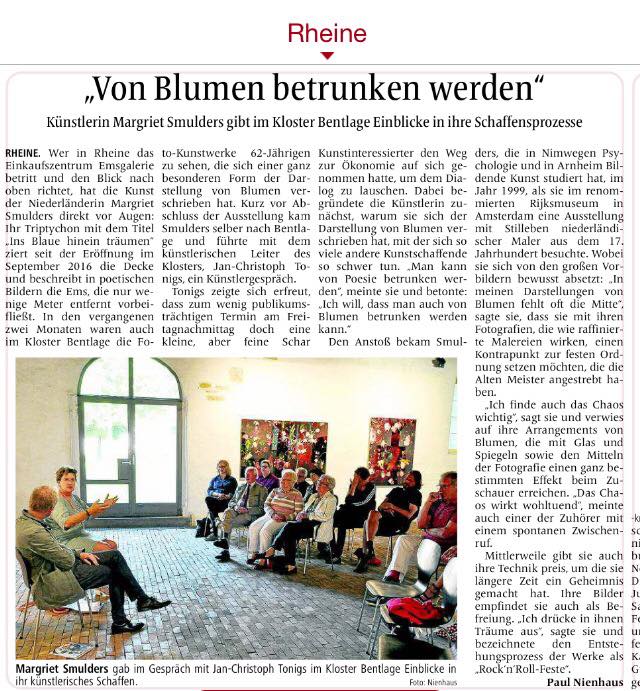 01/02-2014 Elle Decoration, Germany
Inspiration des Monats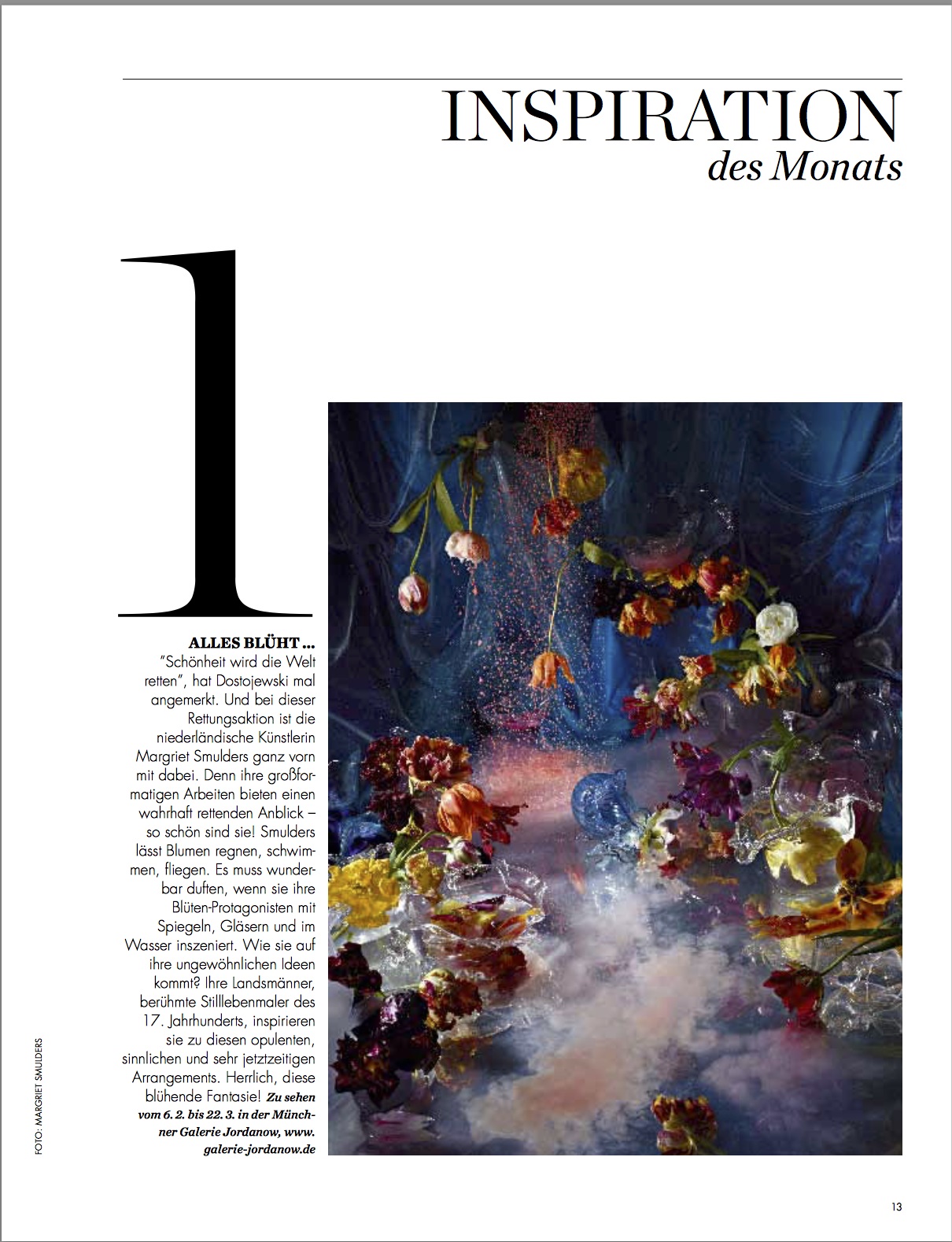 08-2012 Art Voices Magazine, Cinqué Hicks
It takes guts to make art out of flowers in the twenty-first century
To charge into the thicket of some seven-hundred-plus years of perspectival art history without getting caught in the bear trap of sentimentality requires nimble footing and a sure knowledge of the distinction between homage and cliché. Dutch photographer Margriet Smulders accomplished that feat in Botanicals Mirabilis, an abbreviated survey of larger-than-life floral photography at Hagedorn Gallery in Atlanta's Buckhead district. Smulders' show comprised nine images made over the last decade that explored ebullient color, explosive composition, and an animating eroticism that throbbed just below the surface.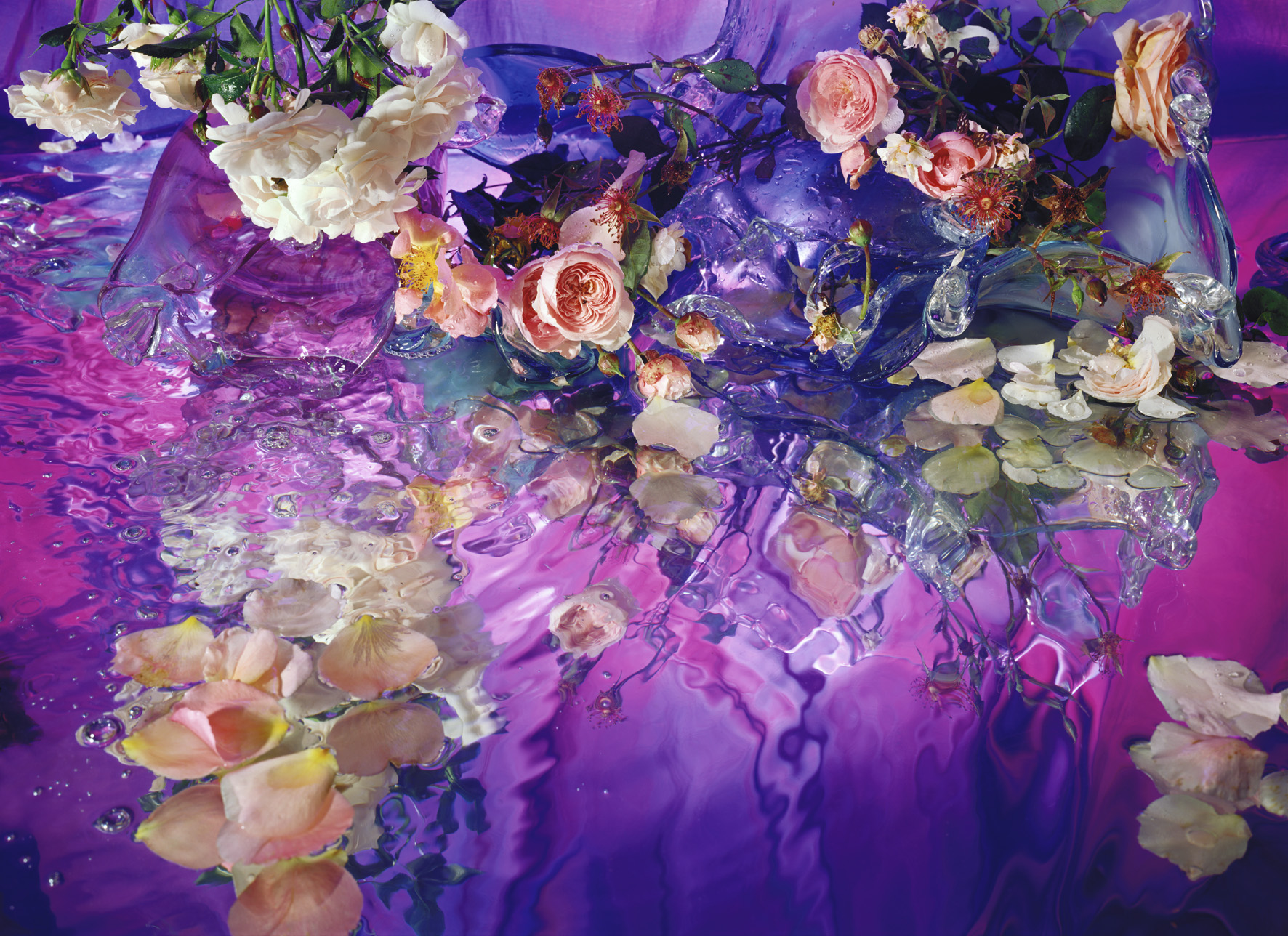 Lilila, 2005, was a case in point. Pink and white fully bloomed roses kissed with dabs of crimson and lemon yellows seemed to tumble from everywhere at once — a disorienting array of loose petals, leafy stems, and glimpses of a barely visible, transparent, glass vase. The entire composition was asymmetrically mirrored in a rippling pool of water suffused with a brilliant light that shaded from deep indigos to purple hues to lilac. The reflections were broken and faceted, suggesting the kind of frozen, instantaneous moment that was the obsession of Baroque painters. Think of Holofernes' blood ejaculating from his neck as Judith beheads him in Caravaggio's late-sixteenth-century painting. Time is compressed to its narrowest expression. The reference to Baroque painting is not accidental. Smulders has looked to the Dutch Golden Age painters of the seventeenth and eighteenth centuries as well as to Renaissance models throughout her career as both a portrait photographer and a photographer of dynamic still lifes.
Other works in the show hewed closer to their Dutch models. Since We Have Met Anew, 2008, for example, echoed the disciplined palette of Rachel Ruysch with pops of saffron yellow and magenta against a curtain of dark shadow. But Smulders has not simply reproduced her historical models. Although she shares the same obsession for the precise rendering of detail (the prints were immaculate), Smulders reinterprets the tradition she references. The works in Botanicals Mirabilis made a place for post-modernity: they pulled the flowers from their vases and sprayed them across the planar face of the photograph. Smulders replaced the Baroque painting as-window with the modern day image-as-surface. The picture does not reveal the world; the picture itself is the world; a self-contained system with its own physics and laws of optics.
Those are the conditions under which eroticism and fantasy reach their full flower, of course. The brighter works in particular — Electra, 2001, with its cyans and fuchsias; Lupinelure, 2004, with its rainbow of jewel tones — recalled the splendor of the Folies Bergère, James Bidgood's homoerotic, phosphorescent landscapes, and Pierre et Gilles' unrestrained luminosity.
Baroque painting emerged when the material world was separating from the spiritual one. Suddenly, the material world of real textures, colors, and light became more important to European painters than it had been for centuries. Smulders raises the stakes and shows that materialism brought into the modern world need not lead to nihilism on the one hand, nor to nostalgic wish fulfillment on the other. There is a third option: that the stuff of this world may already be divine.
08-06-2012 Reviews, Casey Lynch
Simple Beauty Proves Challenging at Hagendorn Foundation Gallery
Hagedorn Foundation Gallery's current show, Botanical Mirabilis, features the photographic work of Margriet Smulders and Bryan Whitney. After visiting the show, I was left a little speechless (at least for a moment). For reasons I cannot explain, I think I was kind of embarrassed to see the images presented. Strangely, in fact, I felt so weird that I kind of wanted to vomit. The images are pleasant enough, and they have no grotesque or risqué content, so why was I having such a strong reaction to these two bodies of work, and why was that reaction more negative than positive? After revisiting the images, and attempting an objective viewing of my subjective experience, I have found a few possible culprits for my oddly visceral experience of what I would at first glance say are mundane, if crafty, pictures of flowers. 

Smulders shows a series of Cibachrome-prints featuring vibrant and sporadic flower arrangements atop reflective surfaces that are reminiscent of seventeenth-century vanitas paintings (which makes sense, as the artist resides in the Netherlands), while New York-based Whitney presents a number of ghostly, yet crisp and colorful x-ray photographs of various plants and flowers. Although there may be something to the uncanny allusion to vanitas in Smulders's series, or the primary reference to mortality that accompanies the x-rays of Whitney, I do not believe those are at the crux of my reaction. Rather, I think it may have something to do with the unabashed showcasing of images of such straightforward and relatively traditional beauty. If that's the case, then what repulsed me from t hese simple, elegant, even beautiful images?

One reason for my feeling this way may be explained by Dave Hickey in his book, The Invisible Dragon, a collection of essays wherein he articulates the power of beauty. He asserts that the recent history of art has caused beauty to be seen as an agent of the market—a dirty thing. As he puts it, in 1988, "If you said beauty, they would say, 'the corruption of the market.'" But he goes on to show that it is beauty that has actually worked against the status quo, giving Robert Mapplethorpe as a prime example. Hickey focuses on Mapplethorpe's X Portfolio, a collection of photographs whose essentially pornographic and homoerotic imagery caused a political uproar. Hickey attributes the controversy not to the vulgarity of the content, but to the fact that the beauty that the photographs possess celebrates the artist's "corruption" (fetishizing homosexual S&M) as opposed to expressing a forgivable symptom (like the angst of Francis Bacon).

To bring it back to the pictures exhibited at Hagedorn, it seems that I, and I assume many other viewers, especially other cynical art-school types, are still quick to show disgust for images of uninhibited pulchritude, especially those of the most basic symbols of beauty, the flower. In many ways, that which is easily accessible, digestible, and understood as beautiful is seen as surface-level and shallow, thus obviously an agent of the market and therefore "bad"; and the images at Hagedorn could easily fall into this category. Hagedorn, however, is a nonprofit gallery whose mission "has been to broaden the Atlanta audience's basis for visual reference in photography and photo-based art to artists who are concerned with the role of their work in the socio-political and cultural arenas." Because I accept this statement as being earnest, I am hesitant to view the works shown there as solely functions of "the market."                                  

Regardless, I don't believe that simply viewing a collection of works that I find unappealing, for reasons legitimate or not, enough to give me a physical reaction. Perhaps my response had to do more with my feeling of embarrassment. In Manet and the Object of Painting, Michel Foucault describes how the gaze is returned to the viewer by a good picture. Similar to Hickey's exegesis of the X Portfolio, Foucault presents a scandalous image (in its time) to illuminate his point. He summons Manet's Olympia, saying that the offense of the picture is not the nude courtesan, but the lighting of her. According to Foucault, because of the frontal illumination, the light source is cohabitant with the viewer, in other words, the viewer is the light source. Thus, there is an embarrassment, a guilt, associated with causing the amoral subject to appear. Maybe it is in this way that I feel ashamed to see the "evils" of the art world; because I am an artist and a viewer of art, I am responsible for the apparent simplicity and errant beauty of the work at Hagedorn.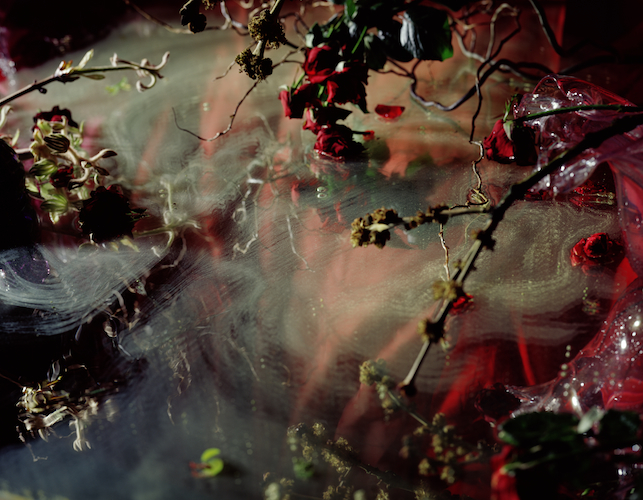 The pictures at Hagedorn are on par with neither Mapplethorpe's photography nor Manet's painting, and although there is exceptional skill exhibited by Smulders and Whitney, any socio-political or cultural critique is lost, if not wholly absent. What is present in the show is the same thing I found important to the artists when I asked them a few questions. Smulders's images match her passionate personality (which came through clearly, even in email). They are sensuous and saturated scenes tainted by a hint of chaos, producing a feeling of evanescence. Whitney's x-rays, like his process, are a bit more technical. In an email, he explained that over 10 years of experience with the medium allows him to create deceivingly simple images that capture the un-seeable, and speak of the unknowable.
I think what prompted my reaction to the show can be explained by basic psychology. As Freud would have it, my id is innately drawn to the seductive beauty of the photographs of Smulders and Whitney, but my ego represses those desires in order that I may be more socially acceptable to my cynical peers. I actually did not have a negative response to the art; I was revolted by the fact that I liked what I was seeing. The saturated colors and suspended moments of subtle movement in images like Lupinelure by Smulders demanded my attention; the line-work that creates almost-patterns amongst layers of translucency in images like Rose by Whitney were interesting when viewed up close as well as when standing at a normal distance. The thing which has made me so sick about the pictures on view at Hagedorn is the fact that I have to come home and write an honest review that ends with "I like pretty pictures of flowers."
8-2-2008 NRC Handelsblad, Marion van Eeuwen
Margriet Smulders in Galerie Nouvelles Images
Grote doeken maakt Jan van der Pol, met dikke verfstreken in matte, vrij sombere kleuren. Zwart, roze en grijze tinten domineren. Het robuuste werk van de deelexpositie De schoonheid van het (ons) tranendal krijgt alle ruimte aan de witte wanden van de Haagse Galerie Nouvelles Images. Op het schilderij Ochtend 1 zitten aan de bovenkant enkele rijen pastelgekleurde ovalen vormen. Het onderste gedeelte van het doek is gehuld in een grijze nevel. In de verte lichten rode koplampen op van een zwarte auto. Linksonder is een lichtgele schim te zien, een suggestie van beweging. Een passerende fietser? Iemand die zich snel uit de voeten maakt? 

De uitstraling van het werk van de andere exposant, Margriet Smulders staat bijna lijnrecht tegenover de schilderijen van Van der Pol. Ook Smulders maakt grote werken, zoals bijvoorbeeld Bloody Roses (181 x 239) of Tulips for Ensor (125 x 190). Maar haar foto's - stillevens is eigenlijk een beter woord - zijn juist vrouwelijk, kleurrijk en sensueel. De voorstelling is de ene keer stemmig en geheimzinnig, zoals die met de opengesneden granaatappels en drijvende rozenblaadjes tegen een donkerrode achtergrond waar vooraan in het beeld nog een paar granaatappelpitjes dobberen. Een andere keer zit er een geestige knipoog in, zoals in Bacchus' Tree, een werk waarin de kleur groen overheerst en waarin bijna kaalgegeten druivenrankjes hangen. 
Wanneer je voor zo'n enorme uitvergroting staat, met diepte, water en sterke kleuren in combinatie met (delen) van bestaand materiaal uit de natuur, voel je vooral vervreemding en verwondering. Het is niet abstract, maar evenmin realistisch.

Voor haar werk bouwt Smulders in haar atelier een soort theaterdecor met gekleurde draperieën rondom een grote spiegel waar een rand op gemonteerd is zodat er water in kan. De kleur van de draperieën is bepalend voor de basissfeer van het stilleven. Rondom, erboven en in de bak manipuleert, hangt en schikt Smulders net zo lang met  planten, bloemen, vruchten en andere plantaardige materialen tot ze tevreden is met het resultaat van de compositie. Dan begint ze te fotograferen. Smulders maakt gebruik van de cibachrome techniek omdat die lichtechtheid garandeert en de kleuren door een juiste belichting nog meer diepte krijgen. Smulders vertelt dat ze al met de waterbak werkt sinds 1999, maar dat er sinds kort een hogere rand op is gemonteerd waardoor ze ook vissen door het beeld kan laten zwemmen. "Ik fotografeer het opgebouwde beweeglijke stillleven samen met één of meerdere assistenten, die helpen met water gooien, vissen de goede kant uit te laten zwemmen en dergelijke."
Ook figureren er nu paddestoelen in haar werk en, zo vertelt ze, in het meest recente werk ontbreken de bloemen zelfs helemaal al verwacht ze dat die zeker wel weer terugkomen. "Ik ben al van jongs af aan bezig met bloemen."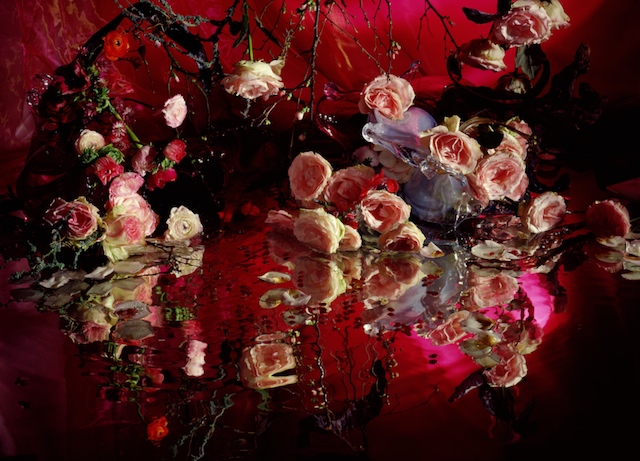 11/12-2007 EXIT 28
Flowers
Endless garlands of flowers curled around the borders of my note pads when I was a school girl. And thousands of roses were cut out from my mother's gardening books. At the Academy of Arts, flowers as large as life were painted on my canvasses. There were always flowers. They flourished in the self-portraits of the eighties and grew bigger in the flower wallpapers made in the nineties. 
You can see a whole world in my flowers. Lush and strangely erotic tableaux entice you into another dimension.  Huge mirrors, elaborate glass vases, rich draperies, fruit and cut blooms are used to make these 'paintings'.

As Baudelaire says "Get drunk: on wine, poetry or virtue". Imagine lingering and languishing in these fresh, sultry and lucid landscapes. I love this sensual state. To lose myself, to deliver myself as in a love affair. Reality doesn't matter. When making photos I get lost in the scenes as if the flowers were caressing me in the gulfs of the sea. 

Kienholz, Sherman and the Dutch painters of the seventeenth century were my masters when making a series of my life as a young woman and mother. These self portraits showed my family life as an embarrassed, querulous paradise: less than perfect. In these theatrical scenes flowers were used as a backdrop. Gradually when making commissioned portraits I began to see people as flowers. 

Later the floral paintings of the 17th century, the works of Pollock and Kiefer, the strong scenes of Pipilotti Rist and the seductive work of Bettina Rheims would inspire me. In 1999 an exhibition on voluptuous Dutch floral still-lives of our Golden Age was in the Rijksmuseum, Amsterdam. At that time I began to 'paint' floral still-life compositions with the help of a mirror, so that the total looked richer, more generous and more highly scented, with purple irises, ragged orange tulips and crumpled lips of full-blown petals that appear to be moving in the rippled waters. The effect is like looking into a clear pond, where rivulets of pure water descend from glacial protrusions.

But not all of the flowers are immaculate or in pristine condition, suggesting that something potentially nasty could take place, as in Greek mythology, which is replete with instances of fratricide and revenge. Insects, frogs, drops of blood and red juice on pallid blooms make the photographs slightly sinister. Darkness gives them an unknown and mysterious depth. In these theatres not only domestic scenes but the whole world with its relationships and dramas is played out by flowers as actors.
2004 Gallery Wäcker & Jordanow, Dr. Erika Wäcker, Munich
Tulipomania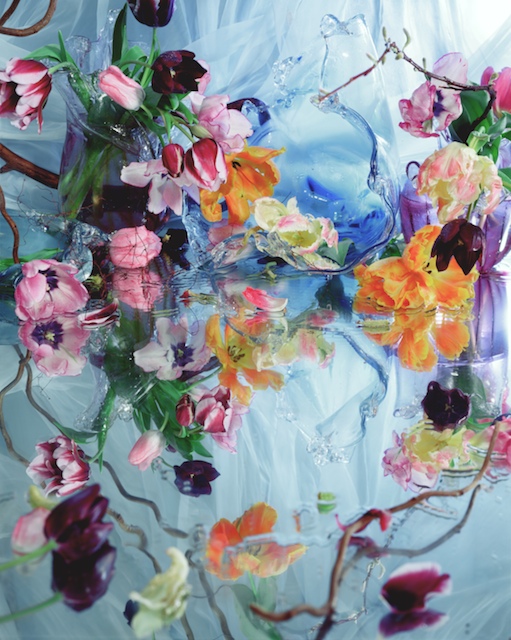 One could be forgiven for thinking that these photographs by Margriet Smulders (born 1955) were paintings: the splendid flower arrangements in brilliant shades of red and purple are so bountiful and baroque that they could almost be by the Old Masters themselves.

These still lifes by the Dutch artist, who is very well known in her own country but has never had a solo exhibition in Germany, were 'painted' with a camera. In these dense, dramatically staged compositions made up of flowers, blown glasses, reflecting mirrors and drops of water, the sumptuous diversity and passion of nature is evoked. These lavish images of flowers, proliferating from edge to edge of the picture and exhibiting the full range of forms and shades, oscillate between order and chaos, immobility and dynamism, thriving and decaying.

The entire Tulipomania series is devoted to tulips. Following winter, the tulip is one of the first signs of nature's reawakening, a symbol of fertility and thus also of sensuality and vitality. The tulip unfolds its beauty when in full bloom, but even the wilting tulip can be stubbornly inspiring. Margriet Smulders has been photographing flowers since 1996, initially as individual 'portraits', later as 'group photos' which became ever more spectacular and luxuriant, finding a temporary high point in her marvellous Siren series.
Margriet Smulders began to focus on the tulip in 2002, in the context of a large commissioned work for the Dutch embassy in Ankara. During the preparatory work for the 10 x 2.25 meter photograph inspired by Monet's Nympheas, she discovered the fascination of the many different new and old species of tulip. The tulip, which is mentioned in the Koran, symbolises the relations between Turkey and the Netherlands.

In the 2003 Tulipomania series Margriet Smulders continues her work with tulips. Through the colour and formal associations of the individual photographs she acknowledges artists such as Rembrandt, Matisse, Dufy, and also Pipilotti Rist and Bettina Rheims, whose works have inspired her in different ways. The arrangements in Margriet Smulders' works take up the tradition of Dutch still life painting, which reached its peak in the 17th century with masterful paintings of flowers. Those lush paintings were intended as a symbolic reminder of man's transience and earthly vanity.

When Smulders toys with this symbolism, she not only awakens associations such as with Baudelaire's Fleurs du Mal and their bombastic-erotic connotations, she also recalls the sexual symbolism of flower cups, and evokes the modern feminism of a Pipilotti Rist, who in her famous video breaks car windows with a flower. Margriet Smulders' wondrously impenetrable worlds, whose ingredients are ultimately the artist's secret, are staged and arranged solely for the camera. By deliberately using kitsch as a stylistic tool which she combines with a great sense of beauty and symbolic power, the artist arrives at self-confident and unconventional variations of a traditional genre. She thus produces photographs that have an almost hypnotic force, are confusing and seductive and engender a whole new visual experience.

Margriet Smulders first studied painting and drawing at the Academy of Fine Arts in Arnheim, before opting for photography. In the early 1990s she took her series of self-portraits in different roles and portraits in arranged settings. To this day, portrait photography plays an important role in her work. Works by Margriet Smulders are to be found in many public and private collections in the Netherlands as well as in Dutch foreign representations.
03/04-2004 Eyemazing Issue 2, Siobhan Wall
Margriet Smulders' lush and strangely erotic tableaux entice you into another world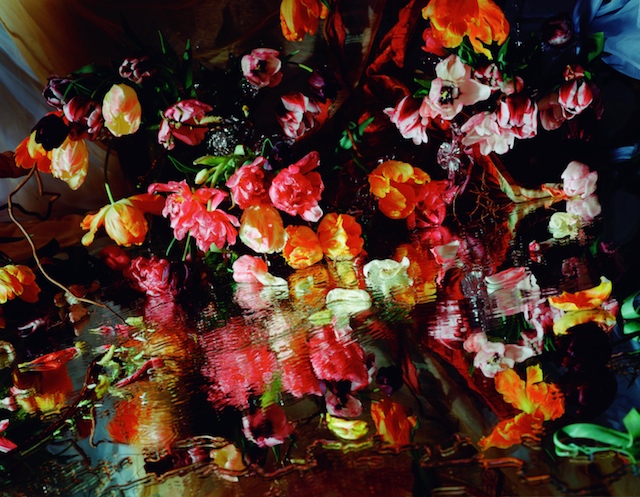 Using huge mirrors, elaborate glass vases, rich draperies and full-blown cut blooms, her seductive images seem closer to painting than photography. Smulders hasn't always taken photographs of snaking tendrils  tumbling out of grotesque and beautiful objects. In the early 1990's she was well known as a portrait photographer, using herself as a model for her distinctive family portraits. Instead of replicating idyllic images of parents and children, she photographed moments when things were far from perfect. In Maternité IX her children are crying rather than smiling at the camera, and a sense of theatre is emphasised by the blue velvet curtains draped around this subversive scene. Smulders covered her miniature sets with chintz wallpaper and hung assorted limp undergarments to frame her contemporary Madonnas. Playing unhappy families inside what look like grown-up dolls houses paintd sickly sweet ice cream colours suggested that commercial (or even private) images of family life are often 'unnatural' and even deceptive. It was hard to tell whether her version of domesticity was meant to seem oppressive or whether she was just alerting the viewer to the complex experience of being a mother, wife and artist. However, there were incipient signs of her current interest in flowers even in these mini domestic theatres. 

In 1996 she started photographing still lifes. Her single stemmed flowers in old vases were tender anthropomorphic portraits in front of sky-blue backgrounds and Smulders still has her collection of pretty china on top of her rose wallpaper-lined cupboard. However, these single blooms soon evolved into the extraordinary concoctions she produces now. In some ways, the domestic theme has become deeper and more resonant, in that she often refers to Greek myths, many of which are replete with instances of fratricide and revenge. Instead of depicting potential intense emotion in the modern family, in images such as Nausicaa and Demeter she refers to ancient tales of love, rivalry, jealousy and bloodshed using abstract imagery. 

Her recent series of irises in the series Drunkenness is typical of her current approach.Although these are still images, they appear to be moving, especially the areas where ripples of water reflect the crumpled petals above.  The effect is like looking into a clear pond, where rivulets of pure water descend from glacial protrusions. Not all of the flowers are immaculate or in pristine condition, suggesting that something potentially nasty could take place and that if we gazed like Narcissus into these deep pools, we may encounter something unpleasant and engulfing. Smulders' images are like visual oxymorons, capturing both the effect of movement and stillness, disorder and formality, still life and landscape in a single frame. In Tulipomania, it seems as if she has shot flowers from a gun which have then been suspended in mid air before they reach their target. The impression of a high-speed ejection of a cornucopia of blossoms in this panoramic photographed is extraordinary. These flowers have rejected their familiar celebratory or consolatory roles at weddings, birthdays and funerals and it's almost as if Smulders' blooms have become wayward and violent, acquiring a life of their own beyond our control. 

There is something entrancing and almost immoral about Smulders' work, perhaps because we are invited to abandon the competent, rational part of ourselves to imagine ourselves inside her voluptuous scenarios. In images such as Bloody Tulips Smulders sees her work crossing a boundary beyond decency and respectability.  Recently she has begun to include small insects in her photographs and combined with drops of blood red juice on pallid blooms, they become slightly sinister.
One reason why her images may be so revered in The Netherlands is because her work continues a tradition of still life painting that reached its climax in the 17th Century. Living in the southern half of The Netherlands, where people are considered to be less severe than their northern neighbours, Smulders' images celebrate a visual eroticism.  400 years ago, however, images of flowers played a different role. They were not only expensive and beautiful exquisite objects to hang in grand canal houses, but also reminders of human mortality. Flowers symbolised an image of perfection that couldn't last and such transient moments were captured by painters such as Rachel Ruysch. These images told the viewer that life is precarious, and virtue was to be prized. 
Margriet Smulders agrees that her work acknowledges the Dutch Golden Age of painting but her photographs are not intended as Memento Mori, exhorting us to behave well. Her images are insistently about life rather than death, and their unruly fecundity is what makes them compelling. Smulders wants the viewer to abandon themselves in looking, and like Baudelaire she wants her work to insist that 'you always have to be drunk'. She says; 'You can look for ages at these photographs, really wander as if in a landscape because there's always more to see, they suck you in'.  

Like a new lover, these images offer the potential of something astounding about to happen, experiences that you've always longed for. Paradoxically, they also arouse desire that can never be consummated. They almost turn the eye into an organ that could taste and gorge on these delicious images. But the eye can't lick or chew, so we can never get enough of these velvety, purple irises, the ragged orange tulips and crumpled lips of full-blown petals. Smulders' potent images are full of potential for imagining ourselves into these seductive landscapes. We could get lost; there is so much to see. They must be seen in the flesh, however, to know how beguiling they really are. But beware; they are perilous because looking at images so beautiful makes it hard to walk away. How can we part from these gorgeous things, abandoning them to their succulent excesses?